NRFL Youth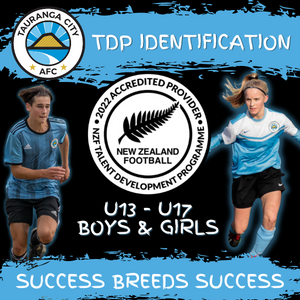 "Success Breeds Success"
In 2021, we broke new ground for the region by entering U14 and U17 teams into the NRFL Youth competitions. Along with our WaiBOP Youth & Senior and NRFL Division 1 U23 & Senior sides, this enables our members a unique benefit over other clubs as they can move between teams, enjoying a full player pathway from Junior to Senior football.
The NRFL Youth competition includes a range of boys and girls age groups and is open to eligible clubs from across the WaiBOP and Northern (Auckland and Northland region) Federations. Through our programmes and club licensing, we are the only club in the Bay of Plenty eligible for automatic entry into these leagues.
The level of football is a significant step up from WaiBOP Fed Y-Leagues and perfect for those players looking for their next challenge, you'll be playing against the top club clubs North of Tauranga with NZ Football representatives in regular attendance at games.
How can I play in these leagues?
Each league has certain eligibility criteria for players and clubs. There are player home-grown restrictions, so current players have an advantage over players looking for one of the limited guest positions.
To be considered a home-grown player, you must be a club for 2 consecutive years. We recommend players look at starting their TCAFC journey early to ensure you're eligible.
If you are interested and want to know more, enrol in one of our programmes and our coaching team can talk you more about this.
We also enter age-group teams in the U17 & U19 National Tournaments hosted by Auckland-based Western Springs AFC and Napier City Rovers respectively. We are very proud of our recent successes at these tournaments because they reflect positively on our work in the youth development space. We have achieved top 3 placings at these tournaments in recent years and won the U19 title in 2019 and the U17 title in 2020.
If you have any questions, please contact us at: develop@tcafc.co.nz.